Indian Railways recently unveiled the beta version of the next generation e-ticketing system. The online travel portal of 
IRCTC

 (

www.irctc.co.in

)
 is revamped with a new look. They have made the website more user-friendly for easier navigation in mobile phones, desktops, laptops etc.
The new user interface will allow the user to check ticket availability without any login. You just need to fill-in information related to your boarding station and destination and related trains start showing. You can then check availability on each of those trains. When you have decided which train to book, you can log in with your user id and password if you had already registered with the old portal or you can register as a new user there. You can also check your PNR status on the new website, quite similar to the 

Indian Rail
portal.
The website is still in the trial phase. When you open the website, it appears with the old look. There is one link provided on the top left corner, below the IRCTC logo, highlighted with red colour. You need to just click over that link and the new website opens in the new tab.
1. You have to go to the 

IRCTC Website

(www.irctc.co.in) and click on the 'Try New Version of Website' as shown and the new website will open.
3. Now, you need to fill in the required information about the boarding station, destination and date of journey etc as shown. Then click on 'Find Trains' tab.
4. A complete list of trains between all stations of your boarding station's city and destination station's city will get displayed. You need to click on 'Check Availability & Fare' tab for your desired train according to suitable timings.
5.  Availability of the train appears for your desired date and upcoming dates. Click on 'Book Now' tab, if you want to book or else click on 'Check Availability & Fare' of any other train which you want to book.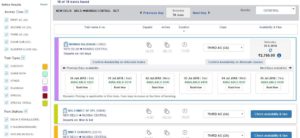 6. Now, a warning may appear if you are booking a train which is not between the same set of stations which you had entered earlier but belong to 
same
 cities. Click on 'OK'.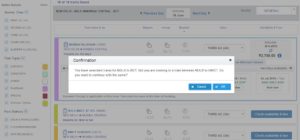 7.  Now, you need to log in with your user-id and password, if you had already registered with the old website or else click register and fill details.
8.  Fill in your details including Name, Gender, Age, Berth Preference, Mobile Number for receiving SMS etc. Click 'Continue Booking'.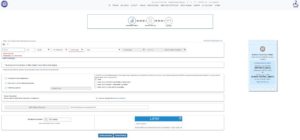 9.  A page appears, containing all the details you filled in the previous step. Just check and click 'Continue Booking'.
10. This will take you to the 'Payment Options'. Choose your payment method and complete the payment process and you are done.