Amazon assistant Alexa got a new look with the launch of its latest range of Echo devices with trendy design aspects and upgraded features. The previous versions of these devices were introduced in the Indian market about 6 months back, which got to limelight since their launch. Those devices were the smaller Echo Dot, the mid-range Echo and the top-end Echo Plus. Amazon also launched Echo Spot some months later, which had an additional touchscreen.
Read Also: Echo Spot with touchscreen 
Amazon new generation echo devices include the 3rd Gen Echo Dot, the 2nd Gen Echo Plus and the new Echo Sub with a subwoofer. These three devices are available for Pre-order on the Amazon India portal. The new Echo Dot is available for ₹4499, the new Echo Plus for ₹14,999 and the Echo Sub for ₹12,999.
Amazon Echo Dot(3rd Gen)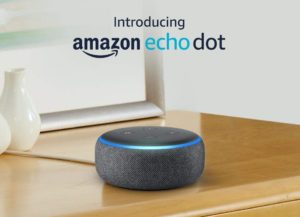 The device is the upgraded version of its predecessor 2nd Gen Echo Dot, which was altogether an affordable pathway to this new world of Artificial Intelligence-based smart devices. This new Echo Dot has got a textured fabric design with 70 per cent better sound quality. You need to plug in the device, connect to your Wi-Fi router, register your device with Alexa App and all done. Then, you can play music, listen to the news, ask questions, set alarms, check the weather forecast, control compatible smart home devices and much more. Echo Dot connects to its cloud-based voice service Alexa, which works on an AI-based framework. You can also connect your Bluetooth speakers and attend phone calls with your Echo Dot device. The pre-requisite for all this is the availability of an internet connection. Here, comes the role of Amazon Echo Plus devices
Amazon Echo Plus(2nd Gen)
Echo Plus 2nd Gen is the upgraded version of its previous 1st Gen device. The new device looks better than its previous generation with the new textured fabric similar to the new Echo Dot device. Amazon also claims to have bundled this device with better sound quality and easier built-in hub setup. The Echo Plus device also connects to the cloud-based voice service Alexa but has an additional feature of the built-in hub, which Echo Dot doesn't carry.
With the help of this built-in hub, you can control the connected smart home devices without an active internet connection. If you have the problem of an unstable internet connection, this Amazon Echo Plus device is for you. You cannot wait for your internet connection to activate just to turn ON your light. You can listen to music, make phone calls, check cricket scores, set alarms, get news updates and all other Alexa features with an active internet connection, some things don't work without internet.
Amazon Echo Sub
This is a completely new device introduced by Amazon with no previous generations. This device, as the name suggests,.comes with a built-in subwoofer with 100W deep bass sound. This Echo Sub needs to be paired with Echo(2n Gen) or Echo Plus(2nd Gen) for rich left/right stereo sound. It is easy to set up, just plug-in and connect using Alexa App. This sounds like just an extra speaker and a subwoofer setup. Why would anyone buy this for ₹12,999 and not another speaker? I think its compactness and Alexa App compatibility will push buyers to consider it buying.
Read Also: Review of Amazon's previous Generation Echo Devices